Posts for: December, 2012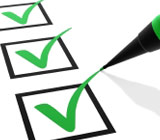 Your car comes with a maintenance manual that tells you when to get an oil change, rotate the tires, and perform other necessary tasks. By following the manual's directions you can keep your car running in good condition for many years. Too bad a manual doesn't come with your teeth and gums!
Such a manual would concentrate on a few basic tasks we call oral hygiene and teeth cleanings. Both tasks are mainly dedicated to removing dental plaque or biofilm from the surfaces of your teeth and the surrounding gums. Plaque is now referred to as a biofilm, a film composed of bacteria, that naturally forms in your mouth. Studies have shown that dental plaque causes periodontal disease (gum disease) and dental caries (tooth decay).
Tips for Daily Removal of Dental Plaque
The way you hold your toothbrush is crucial to your ability to remove plaque effectively. We recommend that you hold it in your fingertips as you would a pen or pencil. Use small motions and pressure. Brushing too hard can damage gum tissues. Use a soft bristled brush, hold it at about a 45 degree angle to the gum line and then use a gentle scrubbing motion. Studies have shown some electric toothbrushes to be more efficient at plaque removal than hand-held brushes; but in general how you use the brush is more important than what kind of brush it is.
To remove plaque deposits from the hard-to-reach areas between your teeth, floss at least once a day. Wrap the floss around each tooth surface and gently move it up and down for a few strokes, cleaning the sides of your teeth where they face each other.
You can use an antibacterial mouthrinse to get help reduce the bacterial plaque or biofilm that you missed in brushing and flossing.
The best way to make sure you are brushing correctly is to have a dental professional demonstrate for you. We would be happy to demonstrate the correct techniques in your own mouth so that you can see how it feels, and you can copy the methods we use.
Professional Maintenance Schedule
Your car needs to go into the shop from time to time for professional maintenance. Your teeth also need a regular schedule of maintenance from a professional dentist or hygienist. Over time, plaque that you do not manage to clean off your teeth accumulates and forms hard deposits called calculus or tartar. If left on your teeth these deposits cause inflammation of your gum tissues and can lead to infection, abscesses, and even tooth loss. During a professional cleaning a technique called scaling removes these substances. For more advanced forms of gum disease, root planing is used to remove deposits of calculus below the gum line.
Contact us today to schedule an appointment to discuss your questions about oral hygiene. You can also learn more by reading the Dear Doctor magazine article "Oral Hygiene Behavior."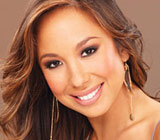 Growing up with a dentist stepdad, Cheryl Burke of Dancing with the Stars heard a lot over the years about the importance of good oral hygiene — in particular, the benefits of using dental floss.
"My dad would say, 'make sure you floss,' but I never really listened to him. I was very, very stubborn," Cheryl told Dear Doctor magazine recently in an exclusive interview. Cheryl admits this stubbornness took its toll, in the form of tooth decay. "I definitely had my share of cavities," Cheryl recalled.
Cavities can form when food particles, particularly sugar and carbohydrates, are not effectively cleaned from the spaces between teeth. These particles are then broken down by bacteria naturally present in the mouth, resulting in the production of acids that attack the tooth enamel.
When she reached her twenties, Cheryl decided she really needed to step up her oral hygiene and cultivate an asset so important to a professional dancer: a beautiful smile. And once she did, cavities became a distant memory.
"I think when you do floss frequently, it helps to reduce the chances of getting cavities," Cheryl said. "It took me a while to figure it out." Now Cheryl flosses after every meal. "I carry floss with me wherever I go. I have no shame busting out my floss in the middle of a restaurant!" She declared.
Dental decay is actually a worldwide epidemic, especially among kids. Untreated, it can lead to pain, tooth loss, and, because it is an infectious disease, it may even have more serious systemic (whole body) health consequences. The good thing is that it is entirely preventable through good oral hygiene at home and regular professional cleanings here at the office.
If it has been a while since you or your children have seen us for a cleaning and check-up, or you just want to learn more about preventing tooth decay, please contact us to schedule an appointment for a consultation. If you would like to read Dear Doctor's entire interview with Cheryl Burke, please see "Cheryl Burke." Dear Doctor also has more on "Tooth Decay: The World's Oldest & Most Widespread Disease."