Posts for: January, 2013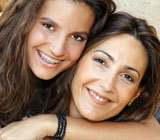 If you are planning orthodontic treatment for yourself or your child, you may have heard about different types of orthodontic appliances (braces) and you may be wondering which type is best for you.
Orthodontic treatment is the process used to improve the positioning of your teeth and bite so that you look better and your teeth function properly. Movement of the teeth is accomplished by harnessing the natural regenerative powers of the body to remodel living tissue, in this case, the bone, which adapts to the new position into which the teeth are moved. Orthodontic appliances accomplish the movement by placing small light and constant forces on the teeth to move them into new and better positions.
There are currently three main types of orthodontic appliances to move your teeth. After careful analysis of your bite and needs, we can help you select the best option for your particular situation.
Fixed appliances, commonly known as braces, so-called because they are fixed to the teeth thereby bracing them together, small brackets are bonded to the teeth and light flexible wires are threaded through them. Controlled tension on these wires pulls or pushes the teeth into position.
Clear brackets are a second, more aesthetic type of fixed appliance. While they are less visible, they tend to be more fragile.
Use of fixed appliances, whether brackets are metal or clear, is usually recommended in more complex cases because they enable the orthodontist to accomplish more complex three-dimensional tooth movements in the most efficient and predictable manner. Please note that, during treatment, you should avoid eating hard foods or participating in extreme contact sports so you will not damage your teeth or the appliances.
Clear aligners are a third, more recent option for repositioning teeth. They are removable appliances, generally used in situations that are milder in nature and easier to correct. After careful assessment, a series of computer-generated, custom made clear plastic trays are made to move the mal-aligned teeth. Tooth movement is progressive with each successive aligner or tray, moving the teeth minutely, until the new desired position(s) is achieved. Clear aligners are usually used for simpler or tipping movements of teeth.
With any of these options, simple movements of teeth may take a few months, and more complex movements take up to two or three years.
Orthodontic treatment is an ingenious scientific discovery that has allowed the dental profession to accurately and precisely move teeth for improved aesthetic appearance and functional position. Contact us today to schedule an appointment or to discuss your questions about orthodontics. You can also learn more by reading the Dear Doctor magazine article "The Magic of Orthodontics."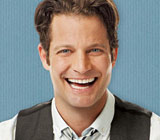 Design expert and television celebrity Nate Berkus has definite ideas about how to live. In a recent interview, he explained his ideas on design. He also talked about health, and how he keeps his teeth and mouth healthy.
From an initial design makeover that he did eight years ago on the Oprah Winfrey Show, Berkus has gone on to do 127 such makeovers. He was such a success that he now hosts his own daily talk show. He has also developed a line of home products for the Home Shopping Network and has his own design firm, Nate Berkus Associates. His clients include well-known restaurants and hotels as well as private homes. He has written articles for O Magazine and authored a book on the subject of transforming your home into a place you love.
"I realized many years ago that I wasn't going on Oprah to pick sofa colors and paint chips. I was there to lift people up through the way they live," he says. His secret to design success is to "go with what you love." He says, "Don't worry about mixing metals, eras or styles. If you love each item, you'll find a way to make it work."
His common sense practical attitude continues when it comes to dental health. Berkus is blessed with a healthy mouth and teeth. He doesn't feel anxious when visiting the dentist because he usually has a good report. He has not needed orthodontics or cosmetic dentistry. He thanks his childhood dentist for giving him fluoride treatments and sealants, and for teaching him healthy dental hygiene habits.
Berkus brushes his teeth twice or even three times a day, with a manual or electric toothbrush — depending on whether he is at home or traveling. He also follows his dentist's advice about flossing: "Floss the ones you want to keep!" He says that he tried tooth whitening once, but he felt that the whiteness was "too white." Now he simply works to maintain his natural tooth color and smile.
Contact us today to schedule an appointment to discuss your questions about maintaining healthy teeth. You can also learn more by reading the Dear Doctor magazine article "Nate Berkus, Helping Others Love the Way They Live."