Posts for: January, 2014
By My Dentist
January 23, 2014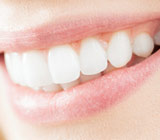 Dental implants have quickly become the restoration of choice for two basic reasons: they effectively restore the lost function of missing teeth and simultaneously rejuvenate the smile with their life-like appearance.
Achieving a life-like appearance, however, isn't always a simple matter. A restoration in what we dentists call the "Smile Zone" (the upper front area that displays both teeth and the gum line when you smile) requires careful planning and technique to ensure they appear as life-like as possible.
Our first concern is whether there's enough bone to fully anchor an implant. Bone is a living, dynamic tissue that goes through cycles of dissolving (resorption) and growth. The normal forces of biting and chewing transmit through healthy teeth and stimulate growth in the bone. When the teeth are missing and no longer transmit this pressure, the bone will eventually resorb only and not grow.
Adjacent teeth could also be affected with bone loss if the extraction was difficult and a bone graft was not placed into the extraction socket to preserve bone. This not only puts adjacent teeth at risk of gum and bone loss but can also have implications for the final smile appearance. This bone also supports the triangular tissue between teeth known as papillae which give teeth their arched appearance. If the bone isn't adequate, there's less hope that the papillae will regenerate.
With these concerns it's very important to consider how the implant and crown emerges from the gums in the Smile Zone. Recent developments in implant design are helping in this regard. The design change of the top of the implant re-orients the gum tissues in relation to the implant from vertical to horizontal, which dentists call "platform switching." This provides greater stabilization where bone mass is limited, and helps create a more aesthetically pleasing result. There are also other techniques, such as surgical tissue grafting of the papillae that can further enhance the final appearance.
Although creating a natural, life-like appearance in the Smile Zone is difficult, it's not impossible. It's important first to undergo a complete dental examination and profile, where we can advise you on your best options to achieve a beautiful smile.
If you would like more information on the relation of implants to the aesthetics of your smile, please contact us or schedule an appointment for a consultation. You can also learn more about this topic by reading the Dear Doctor magazine article "Implant Aesthetics."
By My Dentist
January 08, 2014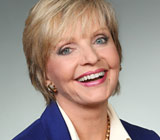 Florence Henderson has inspired generations of people through her portrayal of America's most beloved TV mother, Carol Brady, on one of the longest running situational comedies, The Brady Brunch. Today Florence is still a role model but for a much different audience: senior citizens.
Henderson created the FloH Club as an organization to assist senior citizens with understanding and embracing technology, as she described in an interview with Dear Doctor magazine. "I was inspired to create the FloH Club because of my own fear of technology and because I didn't want to keep asking my children for help," she said.
And while Henderson was blessed with naturally straight teeth and has had no cosmetic work done, she is not opposed to it. "I wouldn't care how old I was, if I had misaligned teeth or felt I needed cosmetic dentistry I would certainly do it!"
One teeth-straightening option many adults consider is clear orthodontic aligners. They are an excellent way for self-conscious adults to align their teeth without feeling that they will appear as an awkward "brace-faced" youth — a look that is commonplace for the teenage years.
But what are clear aligners? They are an alternative system to traditional braces that use a sequence of individual, custom-fitted trays that are clear and removable to gradually straighten teeth. They are usually recommended for correcting mild to moderate spacing problems or crowding of the teeth, and for cases in which there are no major issues with your bite (i.e., your back teeth fit together properly and biting forces are distributed evenly on all of your teeth).
To learn more about this method of aligning teeth, you can continue reading the Dear Doctor magazine article "Clear Orthodontic Aligners." Or you can contact us today to schedule an appointment so that we can conduct a thorough examination and discuss what treatment options will be best for you. And to read the entire interview with Florence Henderson, please see the Dear Doctor article "Florence Henderson."