Posts for: March, 2014
By My Dentist
March 18, 2014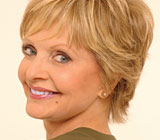 Florence Henderson is a multi-talented actress most recognized for her role as Carol Brady on The Brady Brunch, one of the longest-running situational comedies. In fact, this role earned her the title of America's Favorite TV Mom and her first TV Land Pop Culture Icon award, which is on permanent display in the National Museum of American History.
During an interview with Dear Doctor magazine, Henderson discussed her oral health as well as her role as spokesperson for Polident (denture cleanser) — even though she does not have dentures. Henderson attributes her beautiful, natural smile to prevention. "Flossing, brushing and regular dental checkups are vital if you want to keep your teeth," she said, adding, "I always have mouthwash, dental floss, toothpaste and a toothbrush on the set."
Similar to the great advice "Carol Brady" shared on television, Henderson's advice on oral hygiene is spot-on. We agree that an effective educational approach to oral hygiene and diet is essential to keeping teeth for a lifetime.
The first step is to ensure you have a proper brushing and flossing technique. We can go over these during your next office visit. Our goal is to ensure that you are applying the ideal amount of pressure and motion because gum tissues are soft and can easily be damaged. And you should never use a hard-bristled toothbrush or saw at your gums and teeth when brushing. The best technique is a modified, gentle scrub where you hold a well-designed, multi-tufted toothbrush at a 45-degree angle to the gum line to gently wiggle/scrub your teeth clean.
As for flossing, you should do it at least once daily to remove the plaque buildup that occurs in the protected areas between teeth where your toothbrush can't reach and where periodontal (gum) disease and dental caries (cavities) start and progress. Many people are shocked to learn that over 50% of the accumulation of plaque occurs in these areas.
To learn more about proper oral hygiene, you can continue reading the Dear Doctor magazine article "Oral Hygiene Behavior." Or you can contact us today to schedule an appointment so that we can conduct a thorough examination and discuss what treatment options will be best for you. And to read the entire interview with Florence Henderson, please see the article "Florence Henderson."
By My Dentist
March 03, 2014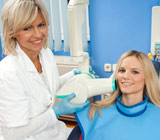 Your dental care would be much more limited without our ability to see "below the surface" with x-ray imaging. But since x-rays passing through the body are a form of radiation, could your exposure from them be hazardous to your health?
It depends on exposure dosages and, of course, the amount you have been exposed to over your lifetime. But, decades of research have demonstrated that exposure to dental x-rays during your regular office visits are only a fraction of the radiation you normally encounter from the natural environment every year.
X-rays have the ability to pass through body tissues, but at different rates for soft tissue like skin and muscle and hard tissue like bone. This effect creates shadows on exposed film; the differentiation is in such detail that a trained technician can interpret not only internal structures, but defects such as fractured bone or, in the case of dentistry, signs of tooth decay and bone loss from gum disease.
But like other energy sources in our environment, x-rays do emit radiation that in high doses can be dangerous to living tissue. The amount of exposure is measured in millisieverts (mSv), a unit that allows for comparison of doses from different sources of radiation. Scientists have calculated that we're normally exposed to between 2 and 4.5 mSv every year.
By contrast, a single digital periapical image taken of a tooth is equal to 1 microsievert (μSv), or one thousandth of an mSv; a full mouth series (between 18 and 20 images) creates an exposure of 85 μSv, or 85/1000 of one mSv. In addition, advances in technology have further reduced the radiation exposure from x-ray imaging. For example, digital imaging has reduced exposure during full mouth x-rays from seven to ten days of equal exposure from normal background radiation to half a day, and with no loss in image quality.
In effect, dental x-rays pose little to no risk for patients. Still, understanding that x-ray imaging does expose patients to radiation, dentists follow certain protocols and safety precautions. For example, dentists will place a lead apron around their patients' chest area during an x-ray exposure.
As your dentist, we're happy to address any concerns you may have about x-ray radiation exposure. But rest assured, the x-ray devices used in your dental care, so necessary in the fight against tooth decay and other diseases, are safe and reliable.
If you would like more information on the use of x-ray technology and safety, please contact us or schedule an appointment for a consultation. You can also learn more about this topic by reading the Dear Doctor magazine article "X-Ray Frequency and Safety."