Posts for: August, 2014
By My Dentist
August 25, 2014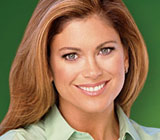 It is not often that you find a celebrity who is willing to speak candidly about any cosmetic or restorative dentistry that he or she has had. Instead, most prefer that their fans just assume that their dazzling "Hollywood" smile is something that just happened naturally. However, that is not the case with Kathy Ireland, the former Sports Illustrated cover girl, current business mogul and founder of kathy ireland Worldwide, a billion dollar marketing and design firm. In a Dear Doctor magazine cover story she talks openly about her dental experiences, injuries and treatment so that people worldwide can understand what may be possible for them.
For Kathy, it happened several years ago when she was playing with her husband and children in their driveway. Kathy decided that she would stand in her children's wagon and surf across their driveway. Instead, she ended up "face-planting," as she describes it, in a freak accident that left her with a broken nose, split forehead and several broken teeth. She recalls that it sounded like a watermelon had smashed. Luckily, her husband, an emergency room physician, was on hand to care for her. Kathy is just as thankful to her cosmetic and restorative dentist who restored her trademark smile with some veneers and a dental implant. Today, the only reminder she has from this accident is a small scar on her nose that she covers with a little makeup.
You would think that this accident would be enough trauma for one person; however, Kathy describes an earlier accident where she knocked out a tooth and then later knocked it loose again. Kathy also wanted to take the time to let readers know that her dental implant experiences were "pretty easy." She did recall, "hearing all the sounds while all of it was going on" and then added, "but I have to tell you, that after being a mom and having kids, going to the dentist...is like going to the spa!" She said that she has even fallen asleep in the dental chair.
To learn more about Kathy Ireland, continue reading the Dear Doctor magazine article "Kathy Ireland." Or if you think cosmetic or restorative dentistry is right for you, contact us today to schedule an appointment to discuss your specific goals.
By My Dentist
August 15, 2014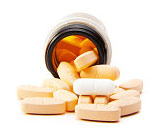 Does the word "vitamin" make you think of a capsule that comes from a bottle… one that you're supposed to take every day to improve your health? If so, it shows the effectiveness of the marketing strategy used by the vitamin and dietary supplement industry — a business that's valued at $25 billion annually. The other definition, of course, is a substance that your body requires (in small amounts) to control normal metabolic functions and sustain life. It's often assumed that taking vitamins in pill form can help you be healthier. But is that assertion really backed up by evidence?
It's true that if your body is severely lacking in any of the 13 vitamins, you could be at risk for developing a disease related to vitamin deficiency: scurvy or pellagra, for example. Moreover, several vitamins (notably vitamins C and E, and beta carotene, a precursor to vitamin A) are also antioxidants; these are molecules that can protect our cells (and our genetic material) from damage caused by toxins in the environment and metabolic processes within our bodies.
Fruits and vegetables are rich in vitamins A and C, and vitamin E is found in vegetable oils. That's one of the reasons why nutritionists and health-care providers stress the importance of a well-balanced diet, including plenty of plant-based foods. Many studies have shown that people who eat lots of vegetables and fruits have lower incidences of heart disease, cancer, and other chronic health problems.
You can also buy substances marketed as antioxidants and nutritional supplements in pill form. But contrary to what you might expect, in that form they don't seem to have the same protective effect on the body. Scientists still aren't sure why this is so, but it may have to do with the presence of many other biologically active compounds in vegetables and fruits. In fact, there is solid evidence that taking too many vitamins or supplements can be dangerous to your health.
We're certainly not saying it's of no use to take vitamins or nutritional supplements — especially if a deficiency is known to exist. If an individual isn't getting enough vitamin D because they avoid exposure to sunlight, for example, then it makes sense to take a supplemental dose. But we need to remember that a supplement in pill form isn't a substitute for a balanced diet — and taking unneeded supplements, or excessive doses, can lead to problems. Like it or not, there are few shortcuts on the road to good health. For more information about vitamins and supplements, see the Dear Doctor magazine article "Vitamins & Dietary Supplements: What Every Consumer Should Know."