Posts for: January, 2017
By My Dentist
January 16, 2017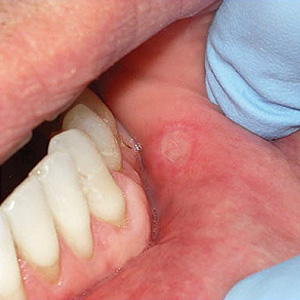 There's more to your dental visit than preventing or treating teeth or gum problems. We're also on the lookout for a number of potential soft tissue problems that could occur in or around your mouth.
Here are 4 examples of such problems we can detect and help you manage.
Lumps. Whenever you accidentally bite the inside of your mouth, the wound you create forms a protective layer of hard collagen. Unfortunately, the "callous" can rise higher than the surrounding cheek surface and easily get in the way of your teeth again. With successive bites and more scar tissue you'll soon notice a prominent lump. Although not a health danger, it becomes annoying with each successive bite. We can surgically remove the lump and flatten out the mouth surface.
Canker sores. Known as aphthous ulcers, these round sores with a yellow-gray center and a red "halo" can break out on the inside cheeks, tongue or back of the throat. Unless they don't heal within a couple of weeks or seem to be increasing in frequency, they're nothing to worry about. They can, however, cause a burning or stinging sensation. We can reduce this discomfort and speed healing with over-the-counter ointments or prescription options like topical or injected steroids.
Cracked mouth corners. Also known as perleche (from the French lecher, meaning "to lick"), your mouth corners can become dry and irritated and you may begin licking them to soothe the discomfort. Accumulated saliva can trigger a yeast infection, which can spread to other parts of your mouth. We can usually prevent this by prescribing antifungal ointments, and a steroid ointment to control inflammation.
Mouth rash. Peri-oral dermatitis is a red, scaly rash that appears around the outside of the mouth. Because it's often mistaken for acne or other conditions, it's often treated with topical steroids. This actually suppresses the skin's normal healing effects and can actually make the rash worse. The best way to treat it is to stop using any kind of ointment or cream and use only mild soap to wash the area. We can also prescribe antibiotics to help speed the healing process.
If you would like more information on these and other soft tissue problems, please contact us or schedule an appointment for a consultation. You can also learn more about this topic by reading the Dear Doctor magazine articles "Common Lumps and Bumps in the Mouth," "Mouth Sores," and "Cracked Corners of the Mouth."
By My Dentist
January 08, 2017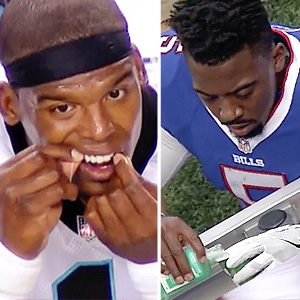 Everyone knows that in the game of football, quarterbacks are looked up to as team leaders. That's why we're so pleased to see some NFL QB's setting great examples of… wait for it… excellent oral hygiene.
First, at the 2016 season opener against the Broncos, Cam Newton of the Carolina Panthers was spotted on the bench; in his hands was a strand of dental floss. In between plays, the 2105 MVP was observed giving his hard-to-reach tooth surfaces a good cleaning with the floss.
Later, Buffalo Bills QB Tyrod Taylor was seen on the sideline of a game against the 49ers — with a bottle of mouthwash. Taylor took a swig, swished it around his mouth for a minute, and spit it out. Was he trying to make his breath fresher in the huddle when he called out plays?
Maybe… but in fact, a good mouthrinse can be much more than a short-lived breath freshener.
Cosmetic rinses can leave your breath with a minty taste or pleasant smell — but the sensation is only temporary. And while there's nothing wrong with having good-smelling breath, using a cosmetic mouthwash doesn't improve your oral hygiene — in fact, it can actually mask odors that may indicate a problem, such as tooth decay or gum disease.
Using a therapeutic mouthrinse, however, can actually enhance your oral health. Many commonly available therapeutic rinses contain anti-cariogenic (cavity-fighting) ingredients, such as fluoride; these can help prevent tooth decay and cavity formation by strengthening tooth enamel. Others contain antibacterial ingredients; these can help control the harmful oral bacteria found in plaque — the sticky film that can build up on your teeth in between cleanings. Some antibacterial mouthrinses are available over-the-counter, while others are prescription-only. When used along with brushing and flossing, they can reduce gum disease (gingivitis) and promote good oral health.
So why did Taylor rinse? His coach Rex Ryan later explained that he was cleaning out his mouth after a hard hit, which may have caused some bleeding. Ryan also noted, "He [Taylor] does have the best smelling breath in the league for any quarterback." The coach didn't explain how he knows that — but never mind. The takeaway is that a cosmetic rinse may be OK for a quick fix — but when it comes to good oral hygiene, using a therapeutic mouthrinse as a part of your daily routine (along with flossing and brushing) can really step up your game.
If you would like more information about mouthrinses and oral hygiene, contact us or schedule a consultation.