Posts for: November, 2017
By My Dentist
November 21, 2017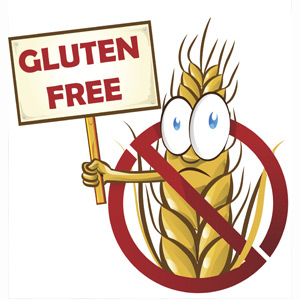 There's been a growing awareness about the effects of gluten, a protein found in grains like wheat, rye and sometimes oats, on certain people. An estimated 1 in 133 Americans have Celiac Disease (CD), a gluten-related disorder that causes the body's immune system to work against itself. And if you have CD, you could eventually face dental problems like enamel pitting and erosion.
When a person with CD consumes gluten, their immune system mistakenly identifies the protein as malicious and attacks it. The attack occurs in the membranes that line the digestive system, which in the process destroys cilia, tiny hair-like structures that aid in food absorption. This disrupts the body's normal absorption of nutrients, which can lead to a number of systemic conditions including intestinal cancer.
Because of the lack of nutrients, your teeth's enamel may develop defects. You may begin to see dull spots or pitting, or chalky grooves in its normally shiny surface: this is a sign you've lost surface enamel crystals (decalcification). You may also be more susceptible to outbreaks of aphthous ulcers (canker sores).
Because symptoms can be misdiagnosed or go unnoticed, it may be years before you know you have CD. You can, however, get a definitive diagnosis through a blood test for gluten antibodies, which is then confirmed with a biopsy of a tissue specimen from the intestine.
While there's ongoing research for CD-related medication, there's currently only one recognized treatment for it — remove gluten from your diet. This is much harder than it sounds, and requires knowing what you can and can't eat, along with strict monitoring of food package labeling. Thankfully, the world is becoming better educated in this respect as more food manufacturers are clearly labeling products containing gluten and restaurants are providing gluten-free menu options.
Once you have dietary controls in place, your dental issues can be treated as any other person, with one exception: none of the products used in treatment like polishing paste or fluoride gels should contain gluten, and must be verified before using.
CD is a serious condition that could even become life-threatening. Knowing you or someone in your family has it will help you protect both your overall health and your teeth.
If you would like more information on the gluten's effect on dental health, please contact us or schedule an appointment for a consultation. You can also learn more about this topic by reading the Dear Doctor magazine article "Gluten & Dental Problems."
By My Dentist
November 06, 2017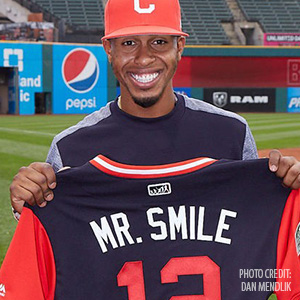 At the first-ever Players Weekend in August 2017, Major League Baseball players wore jerseys with their nicknames on the back. One player — Cleveland Indians shortstop, Francisco Lindor — picked the perfect moniker to express his cheerful, fun-loving nature: "Mr. Smile." And Lindor gave fans plenty to smile about when he belted a 2-run homer into the stands while wearing his new jersey!
Lindor has explained that he believes smiling is an important part of connecting with fans and teammates alike: "I've never been a fan of the guy that makes a great play and then acts like he's done it 10,000 times — smile, man! We've got to enjoy the game."
We think Lindor is right: Smiling is a great way to generate good will. And it feels great too… as long as you have a smile that's healthy, and that looks as good as you want it to. But what if you don't? Here are some things we can do at the dental office to help you enjoy smiling again:
Routine Professional Cleanings & Exams. This is a great place to start on the road toward a healthy, beautiful smile. Even if you are conscientious about brushing and flossing at home, you won't be able to remove all of the disease-causing dental plaque that can hide beneath the gum line, especially if it has hardened into tartar, but we can do it easily in the office. Then, after a thorough dental exam, we can identify any problems that may be affecting your ability to smile freely, such as tooth decay, gum disease, or cosmetic dental issues.
Cosmetic Dental Treatments. If your oral health is good but your smile is not as bright as you'd like it to be, we can discuss a number of cosmetic dental treatments that can help. These range from conservative procedures such as professional teeth whitening and bonding to more dramatic procedures like porcelain veneers or crowns.
Tooth Replacement. Many people hide their smiles because they are embarrassed by a gap from a missing tooth. That's a shame, because there are several excellent tooth-replacement options in a variety of price ranges. These include partial and full dentures, bridgework, and dental implants. So don't let a missing tooth stop you from being Mr. (or Ms.) Smile!
If you'd like more information about oral health or cosmetic dentistry, please contact us or schedule an appointment for a consultation. You can also learn more by reading the Dear Doctor magazine articles "Beautiful Smiles by Design" and "The Impact of a Smile Makeover."