Posts for: September, 2018
By My Dentist
September 20, 2018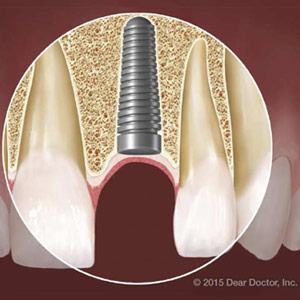 Today, dental implants are an increasingly popular option for replacing lost teeth — an issue faced by many older Americans. It's not hard to see why these high-tech prosthetic teeth are preferred: They look, "feel" and function just like natural teeth… and with proper care they can last the rest of your life. Unfortunately, many people who could benefit from implants also face an additional health problem: diabetes, a metabolic disease that can affect many different parts of the body, sometimes severely.  Uncontrolled diabetes can lead to nerve and tissue damage, and may adversely impact your oral health. So if you have diabetes, does it mean you won't be able to get dental implants? 
The short answer is no — but there are some considerations that diabetics (and their health care providers) need to keep in mind. For example, it has been demonstrated that wounds in diabetics tend to heal more slowly, and are more prone to infection than those in non-diabetics. Also, people with diabetes sometimes experience a chronic inflammatory response, which can eventually lead to tissue damage or other problems.
Because the placement of dental implants requires minor surgery, dentists and researchers have questioned whether people with diabetes are good candidates for implants. Now there's encouraging news: Several recent studies have come to the conclusion that many diabetics can indeed undergo an implant procedure without undue risk.
One key consideration is how well an individual can control his or her blood glucose levels. Researchers have found that diabetics with good blood glucose control, those with poor glucose control, and non-diabetics all have similar implant success rates (above 95%). However, in diabetics with poor glucose control, more time may be needed for the jawbone to heal in the area where the implant procedure was done. That doesn't by any means rule out the placement of a dental implant — but it does mean that special considerations apply to individuals in this situation.
So if you are considering an implant procedure but have trouble controlling your blood glucose levels, ask us how we can help. Just remember that in most cases, having diabetes doesn't mean you won't be able to enjoy the benefits of dental implants. If you have additional questions, contact us or schedule an appointment.
By My Dentist
September 10, 2018
Dental crowns are an essential means for restoring damaged or unattractive teeth. A well-crafted crown not only functions well, it looks and blends seamlessly with the rest of the natural teeth.
Crowns are artificial caps that cover an entire visible tooth, often used for heavily decayed or damaged teeth or as added protection after a root canal treatment. Most crowns are produced by a dental lab, but some dentists are now creating them in-office with computer-based milling equipment. On the whole, the various crowns now available function adequately as teeth—but they can vary in their appearance quality.
In the early to mid 20th Century the all-metal crown was the standard; but while durable, it could be less than eye-pleasing. Although more life-like dental porcelain existed at the time, it tended to be brittle and could easily shatter under chewing stress.
Dentists then developed a crown that combined the strength of metal with the attractiveness of porcelain: the porcelain fused to metal or PFM crown. The PFM crown had a hollow, metal substructure that was cemented over the tooth. To this metal base was fused an outer shell of porcelain that gave the crown an attractive finish.
The PFM reigned as the most widely used crown until the mid 2000s. By then improved forms of porcelain reinforced with stronger materials like Lucite had made possible an all-ceramic crown. They're now the most common crown used today, beautifully life-like yet durable without the need for a metal base.
All-ceramics may be the most common type of crown installed today, but past favorites' metal and PFM are still available and sometimes used. So depending on the type and location of the tooth and your own expectations, there's a right crown for you.
However, not all crowns even among all-ceramic have the same level of aesthetic quality or cost—the more life-like, the more expensive. If you have dental insurance, your plan's benefits might be based on a utilitarian but less attractive crown. You may have to pay more out of pocket for the crown you and your dentist believe is best for you.
Whatever you choose, though, your modern dental crown will do an admirable, functional job. And it can certainly improve your natural tooth's appearance.
If you would like more information on dental restorations, please contact us or schedule an appointment for a consultation.