Posts for: February, 2019
By My Dentist
February 17, 2019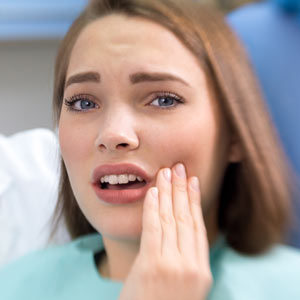 In an instant, an accident could leave you or a loved one with a missing tooth. Thankfully, we can restore it with a dental implant that looks and functions like a real tooth—and the sooner the better.
But if the patient is a teenager or younger, sooner may have to be later. Because their jaws are still developing, an implant placed now could eventually look as if it's sinking into the gums as the jaw continues to grow and the implant doesn't move. It's best to wait until full jaw maturity around early adulthood and in the meantime use a temporary replacement.
But that wait could pose a problem with bone health. As living tissue, bone cells have a life cycle where they form, function and then dissolve (resorption) with new cells taking their place. This cycle continues at a healthy rate thanks to stimulation from forces generated by the teeth during chewing that travel through the roots to the bone.
When a tooth goes missing, however, so does this stimulation. Without it the bone's growth cycle can slow to an unhealthy rate, ultimately reducing bone volume.  Because implants require a certain amount of bone for proper placement and support, this could make it difficult if not impossible to install one.
We can help prevent this by placing a bone graft immediately after the removal of a tooth within the tooth's "socket." The graft serves as a scaffold for new bone cells to form and grow upon. The graft will eventually resorb leaving the newly formed bone in its place.
We can also fine-tune and slow the graft's resorption rate. This may be preferable for a younger patient with years to go before their permanent restoration. In the meantime, you can still proceed with other dental treatments including orthodontics.
By carefully monitoring a young patient's bone health and other aspects of their dental care, we can keep on course for an eventual permanent restoration. With the advances in implantology, the final smile result will be worth the wait.
If you would like more information on dental care for trauma injuries, please contact us or schedule an appointment for a consultation. You can also learn more about this topic by reading the Dear Doctor magazine article "Dental Implants for Teenagers: Factors Influencing Treatment Planning in Adolescents."
By My Dentist
February 07, 2019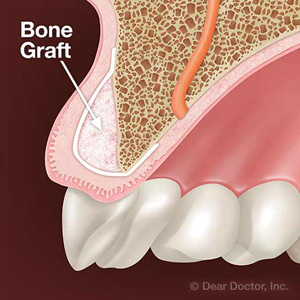 Dental implant technology has advanced at such an astounding rate in recent years that you can now walk into a dentist's office with a problem tooth and out the same day with a new one. Unfortunately, not all dental situations allow for this possibility.
For example, you might be considering an implant many years after losing a tooth. But there's a potential problem: there might not be enough supporting bone. While an implant might still be possible, inadequate bone complicates the matter.
Because implants are essentially tooth root replacements, they require a certain amount of bone for stability and the best attractive outcome. As a general rule, implants need to be surrounded by  at least 1.5-2.0 millimeters of healthy bone to support an implant. But you might not have enough if your tooth has been missing for awhile, regardless if you have or haven't worn dentures or other restorations.
That's because bone has a life cycle in which older cells die and newer ones form to take their place. As we chew or bite, the force generated travels up through the teeth to the bone to stimulate this new growth. Without a tooth the bone doesn't receive this stimulus, which can slow the growth rate. Over time the affected bone can lose its volume and density.
If we find you've experienced loss to the point your bone won't support an implant, that doesn't automatically mean this popular restoration is out of the picture. But it will require us first performing a procedure known as augmentation or bone grafting to help rejuvenate some of the lost bone.
With grafting, we place processed bone grafting material in the jaw through a minor surgical procedure to form a scaffold for new bone to grow upon. After several months this can result in several millimeters of new growth maintaining the width of the underlying bone, which in turn may be able to support an implant.
Bone grafting is quite common, often performed at the same time as tooth extraction if there's going to be a time lag before installing an implant. Even if performed later, though, it can successfully rejuvenate lost bone and make it possible for you to take advantage of durable, life-like implants.
If you would like more information on dental implants, please contact us or schedule an appointment for a consultation. You can also learn more about this topic by reading the Dear Doctor magazine article "Dental Implants after Previous Tooth Loss."