Posts for tag: artificial sweeteners
By My Dentist
June 27, 2019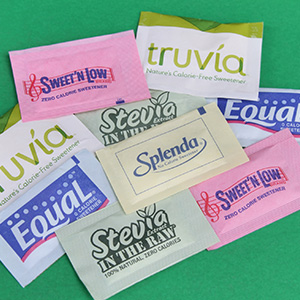 We're all familiar with "naughty" and "nice" lists for food: "nice" items are beneficial or at least harmless; on the other hand, those on the "naughty" list are not and should be avoided. And processed sugar has had top billing on many people's "naughty" list for some time now.
And for good reason: it's linked to many physical ills including obesity, diabetes and heart disease. As a favorite food for oral bacteria that cause dental disease, sugar can also increase your risk for tooth decay or periodontal (gum) disease.
Most people agree that reducing sugar in their diet is a great idea health-wise. But there's one small problem: a great many of us like sugar—a lot. No matter how hard we try, it's just plain difficult to avoid. Thanks perhaps to our ancient ancestors, we're hard-wired to crave it.
But necessity is the mother of invention, which is why we've seen the development over the past half century of artificial sweeteners, alternatives to sugar that promise to satisfy people's "sweet tooth" without the harmful health effects. When it comes to dental health, these substitute sweeteners won't contribute to bacterial growth and thus can lower disease risk.
But are they safe? Yes, according to the U.S. Food and Drug Administration (FDA). The agency has approved six types of artificial sweeteners for human consumption: acesulfame K, saccharin, aspartame, neotame, sucralose and rebaudioside A. According to the FDA any adverse effects caused by artificial sweeteners are limited to rare conditions like phenylketonuria, which prevents those with the disease from safely digesting aspartame.
So, unless you have such a condition, you can safely substitute whatever artificial sweetener you prefer for sugar. And if dental health is a particular concern, you might consider including xylitol. This alcohol-based sweetener may further deter tooth decay—bacteria can't digest it, so their population numbers in the mouth may actually decrease. You'll find xylitol used as a sweetener primarily in gums, candies and mints.
Reducing sugar consumption, couple with daily oral hygiene and regular dental visits, will certainly lower your risk of costly dental problems. Using a substitute sweetener might just help you do that.
If you would like more information on sweetener alternatives, please contact us or schedule an appointment for a consultation. You can also learn more about this topic by reading the Dear Doctor magazine article "Artificial Sweeteners."
By My Dentist
August 14, 2015
Barley malt, corn syrup, maltodextrin — these and over fifty other label ingredients are all names for refined sugar. Under its various aliases, this sweet carbohydrate is tucked away in three-quarters of packaged foods in the U.S.
Although in recent years the general health effects from too much sugar have gained the spotlight, its effect on dental health has been known for decades. Accumulated sugar in the mouth is a prime food source for bacteria that cause tooth decay and gum disease.
For both general and oral health, people have been looking to artificial alternatives to satisfy their sweet tooth. But do they have their own issues that can impact overall health? Here is an overview of some of the more popular brands of artificial sweeteners and their effect on health.
Saccharin — One of the most widely used artificial sweeteners, saccharin is often used under the names Sweet'N Low or Sugar Twin in low-calorie foods because it contains no calories. According to the Food and Drug Administration (FDA) there are no associated health risks with consuming saccharin in recommended servings.
Aspartame — used commonly in beverages as Equal or NutraSweet, aspartame is unsuitable for cooking because its chemical structure breaks down under high heat. Although generally safe for consumption, it can affect people with a rare condition known as phenylketonuria that can't adequately break down its chemicals.
Sucralose — marketed as Splenda, this sweetener is made by chemically altering refined table sugar so the body can't process it. This may be one reason it has the most recognized natural flavor profile among consumers and is a market leader. It's stable at high temperatures, so it's often used in cooked or baked goods.
Stevia/Erythritol — this combination of an extract from the extremely sweet herb stevia and the sugar alcohol erythritol is marketed as Truvia. Unlike other calorie-free artificial sweeteners, this and other alcohol-based sweeteners have a low calorie level due to sugar alcohol's characteristic of slow and incomplete absorption during digestion.
Xylitol — although all the previously mentioned sweeteners won't promote bacterial growth like refined sugar, the sugar alcohol xylitol — often added to chewing gum and mints — has an added benefit: it may actually reduce levels of bacteria most likely to cause decay.
If you would like more information on the effect of sweeteners on dental health, please contact us or schedule an appointment for a consultation. You can also learn more about this topic by reading the Dear Doctor magazine article "Artificial Sweeteners."