Posts for tag: gum recession
By My Dentist
May 12, 2020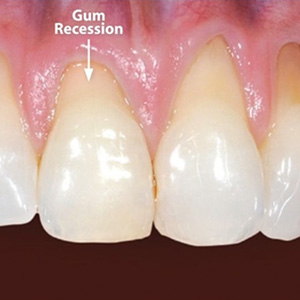 Gum recession is a serious oral condition in which the gums shrink back or "recede" from their normal position around the teeth. Because they're the primary protection for teeth below the enamel, this can expose the teeth to infection or cause painful sensitivity. And receded gums most certainly can diminish your smile.
But there are preventive measures you can adopt that might help you avoid this unpleasant condition. Here are 4 things you can do to minimize your risk for gum recession.
Practice daily oral hygiene. The main cause for recession is gum disease, a bacterial infection that weakens gum attachment to teeth. Gum disease usually arises from dental plaque, a thin bacterial film that builds up on teeth. Removing it every day with brushing and flossing minimizes the risk of gum disease and gum recession.
But don't overdo it. Although brushing is key to keeping your mouth healthy, too hard and too often can damage your gums and lead to recession. A little "elbow grease" may be appropriate for other cleaning tasks, but not your teeth—use gentle strokes and let the mild abrasives in your toothpaste do the main removal work. And avoid brushing more than twice a day.
See your dentist regularly. Your personal care efforts are a major part of preventing gum recession, but you can greatly increase the effect with professional dental care. That's because with even the best hygiene practice infections and other gum problems can still arise. You may also have inherited thinner gum tissues from your parents that increase your disease risk and bear closer monitoring.
Act quickly at the first signs of disease. Gum disease is a progressive disease, and it doesn't take long for it to become intrenched. The sooner it can be treated, the less likely you'll experience recession. So, make a dental appointment as soon as possible if you notice your gums are swollen, red or painful, or if they bleed easily after brushing.
There are ways to reverse gum recession. But many treatments like grafting surgery to regenerate new gum tissues can be quite involved and expensive. Following these tips can help you avoid gum recession altogether or stop it before it goes that far.
If you would like more information on how to avoid gum recession, please contact us or schedule an appointment for a consultation. You can also learn more about this topic by reading the Dear Doctor magazine article "Gum Recession: Getting Long in the Tooth."
By My Dentist
April 02, 2014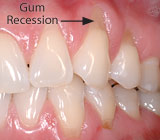 If you have noticed that one or more of your teeth have lost some of the surrounding pink gum tissue so that part of the root surface is now uncovered, you are experiencing gum recession. It's a very common problem — in fact millions of Americans have some degree of gum recession. Fortunately, there are very effective methods of treating it.
Gum recession can be unsightly, but there are more serious concerns. Tooth root surfaces exposed by gum recession can become sensitive to temperature and pressure changes and can decay or wear away. In very severe cases, teeth can actually be lost. That's because gum or "gingival" tissue as it is medically known is supposed to encircle and firmly attach to the necks of the teeth and the underlying bone. This forms a protective barrier that is resistant to the abrasive action of foods during eating, biting and chewing.
Gum tissue is largely made of a fibrous protein called collagen, covered by a layer of another very resilient protein called keratin (nails and hair are also made of it). Yet it is still possible for this tough tissue to lose its grip on the teeth it protects. Here are some of the ways this can happen:
Ineffective oral hygiene — inadequate removal of dental bacterial plaque (biofilm) with daily brushing and flossing.
Excessive brushing (and flossing) — too hard, or for too long.
Habits — holding foreign objects between the teeth, such as bobby-pins, nails etc that press on the gum tissues.
Oral appliances and ornaments — badly fitting removable partial dentures and orthodontic appliances (braces), or tongue bolts and oral piercings can apply pressure to the gums.
Treatment will depend in part on whether the recession is stable or progressive. For example, an older person might have a few areas of gum recession but there are still adequate zones of attached protective gum tissue and the exposed tooth root surfaces are healthy. In this case, there may not be reason to do anything but monitor the situation. On the other hand, a teenager with a history of fairly rapid gum recession (over a period of months) usually requires immediate treatment. The dental specialty of periodontics ("peri" – around; "odont" – tooth) has developed predictable surgical techniques to deal with recession.
Free Gingival Grafting, for example, involves taking a very thin layer of skin from the palate, where the tissue is identical to gum tissue, and transplanting it to the area where gum has been lost. Both sites will heal in a very predictable and uneventful manner. The free gingival graft is so-called because it is "freed" from the donor (original) site completely. It is crucial to make sure individuals with gum recession correct faulty hygiene habits prior to this (or any) treatment so that they will not jeopardize their future results.
If you are concerned about gum recession, please contact us or schedule an appointment for a consultation. You can also learn more about gum recession and gingival grafting by reading the Dear Doctor magazine article "Periodontal Plastic Surgery."