Posts for tag: nutrition
By My Dentist
February 04, 2018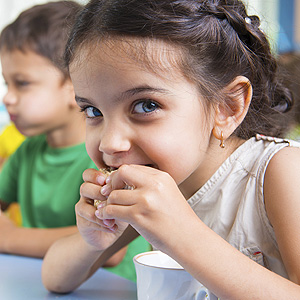 While you do all you can to provide your child healthy meals and snacks at home, they still face tempting choices for unhealthy fare when they're away. Unfortunately, their school campus could be one of those places with food choices that raise their risk for dental disease.
Thankfully, that situation is beginning to change. The U.S. Department of Agriculture (USDA) issued regulations a few years ago tightening minimum health standards for snacks available on school grounds. Called the Smart Snacks in Schools initiative, it promotes whole grains, fruits, vegetables and low-fat dairy products, while discouraging snacks with empty calories, fat, sugar and excessive salt. This is good news in particular for preventing tooth decay in children and teenagers.
Unfortunately, the initiative may not go far enough. There are a few "loopholes": it allows for chocolate milk with added sugar as long as it's fat-free; high schools can also sell beverages like sports and energy drinks, which are low in sugar but high in enamel-harming acid. So, although the general nutrition of snacks in schools may be improving, you should still remain alert to poor choices that may fall through the cracks.
For one thing, you can advocate for better nutrition policies in your child's school. The USDA initiative is a minimum standard — schools can exceed them and eliminate borderline snacks allowed under the federal regulations.
You can also provide your child snack alternatives to the school vending machine. A little creativity and fun can go a long way: a dash of cinnamon or parmesan cheese on popcorn instead of butter; finger sandwiches made of real cheese on whole-grain bread (with some whimsical shaping with a cookie-cutter); or bite-sized fruits and vegetables like grapes, baby carrots or nuts. The more healthy (and enjoyable) snacks you can send with them, the less chance they'll turn to a less nutritious choice in the vending machine.
A healthier approach to snacking depends on setting good examples, providing ample selections and accentuating the positive about healthy foods. Choosing nutritious foods, at home and away, is a key building block for healthy teeth and gums.
If you would like more information on nutrition and dental health, please contact us or schedule an appointment for a consultation. You can also learn more about this topic by reading the Dear Doctor magazine article "Snacking at School."
By My Dentist
October 29, 2017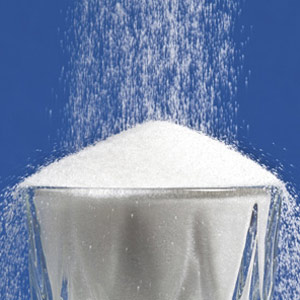 Even after decades emphasizing oral hygiene and supplemental fluoride to fight dental disease, we're now seeing an increase in tooth decay, especially among children. What's causing this alarming trend?
Many in both the dental and medical professions link this and other health problems to a rise in the amount and consumption of sugar added to food products. A number of years ago our annual average consumption of added sugar was about 4 pounds per person; today, it's closer to 90 pounds.
The increase in sugar consumption can be traced to the 1970s when the food industry began adding more sugar to make processed foods stripped of oils and fats taste better. Today, 77% of the approximately 600,000 food items sold in the United States contain some form of sugar (under a variety of names).
This additional sugar, however, has produced an unintended consequence: sugar triggers the release of a brain chemical called dopamine that regulates our sense of reward when we engage in a desirable behavior. The excess dopamine creates a weak addiction to sugar, which then leads to overconsumption, contributing to our current obesity epidemic and the rise in health problems like heart disease or Type 2 diabetes. This is especially alarming among children: thirty years ago Type 2 diabetes was unheard of among children — today there are over 55,000 diagnosed pediatric cases.
For both you and your family's general and dental health, you should consider ways to reduce your sugar intake: purchase and eat most of your food from the "outer edges" of your supermarket — meats, dairy, and fresh vegetables and fruits (which do contain the sugar fructose, but are mostly fiber that slows the liver's processing of the sugar); limit processed foods with added sugar, and learn to recognize its inclusion in products by reading ingredients labels. You should also be wary of sweetened beverages such as sodas, sports drinks, teas or juices, and try to drink more water.
The recommended daily sugar consumption is less than six teaspoons a day (about two-thirds the amount in one can of soda). By restricting this consumption, you'll improve your general health and reduce your risk for dental disease.
If you would like more information on the general and dental health effects of sugar, please contact us or schedule an appointment for a consultation.
By My Dentist
October 15, 2013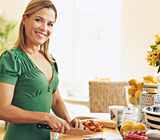 Junk food and between-meal sweets are a habit for many of us, even though we know it is bad for our bodies and our teeth. As adults, we are responsible for our own choices. As parents, we are also responsible for our children's choices, and for teaching them to choose wisely.
Celebrity Chef Cat Cora offers the following six suggestions for leading children to a healthy lifestyle. Cora is a star of Iron Chef America and author of Cat Cora's Classics with a Twist: Fresh Takes on Favorite Dishes, in which she reveals healthier versions of classic recipes. In her remakes she shows how to cook with a lot of flavor while reducing fat and sugar. Cora has four young sons, so her methods are not just theories — they have been practiced in real life.
1. Remember who's the boss.
"My kids have never had fast food," Cora said in a recent interview with Dear Doctor magazine. "The parents have a choice to do that or not," she said. "The kids are not going to the grocery store to shop; the kids are not driving themselves through fast food chains."
2. Make your rules clear and stick to them.
"Right now my 7-year-old tries to be picky, but it's really about us being consistent as parents," Cat said. For example, in her household pizza is served only at the weekly pizza and movie night. The kids get a healthier version of what they want, so they don't feel deprived. The evening includes air-popped popcorn without butter — and no soda, which is bad for teeth because of its sugar and other chemical ingredients.
3. Offer your children a variety of foods and tastes.
Cora made sure her children tried different foods and spices from infancy, so they are open to trying new things. It's easier to get all the nutrition you need if you eat a wide variety of foods.
4. Learn to make tasty substitutions for sugar.
When her children were babies, Cora stopped relying on bottles and sippy cups as soon as possible, reducing her children's likelihood of developing tooth decay due to sugary residues remaining in their mouths. Now that they are older, she uses tasty substitutes for sugar such as fruit purees and the natural sugar substitute Stevia.
5. Include the children in meal planning.
Kids are more likely to eat a meal they are involved in planning and cooking. For example, ask them which vegetable they would like to have (not whether they want to have a vegetable).
6. Model healthy behavior for your kids.
Parents are the best role models. This is true not only for food choices, but also for exercise and maintaining a healthy lifestyle.
Contact us today to schedule an appointment to discuss your questions about oral health. You can also learn more by reading the Dear Doctor magazine article "Cat Cora."