Posts for tag: periodontal disease
By My Dentist
September 23, 2013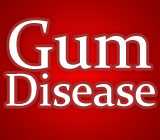 Because its symptoms can be easy to overlook, gum disease is sometimes called a "silent" malady. But don't underestimate this problem! Untreated periodontal disease can progress into a serious condition, possibly leading to tooth loss and even systemic (whole-body) health issues. With proper preventive measures and appropriate treatment, however, the disease can be controlled.
The root cause of periodontal disease — actually, a group of related diseases, all of which affect the tissues surrounding the teeth — is the buildup of bacterial plaque (also referred to as biofilm) around the gums. While hundreds of types of bacteria live in the mouth, only a comparatively few are thought to be harmful. But when oral hygiene (namely, brushing and flossing) is inadequate, the environment in the mouth becomes favorable to those harmful types.
The disease often begins with inflammation of the gums called gingivitis. It symptoms include bad breath, bleeding gums, and soreness, redness, or tenderness of the gum tissue. However, in some people these early warning signs are ignored, or masked by the effects of harmful habits like smoking.
Gum disease is chronic; that means, if left alone, it will worsen over time. Periodontitis, as it progresses, causes damage to the ligament that helps hold the tooth in place, as well as bone loss. This may become increasingly severe, and ultimately result in the loss of the tooth. Severe periodontitis is also associated with whole-body (systemic) inflammation, which has been linked to an increased incidence of cardiovascular diseases, like stroke and heart attack.
But there's no reason to allow gum disease to progress to this stage! Prevention — that is, regular daily brushing and flossing as well as regular dental cleanings — is a primary means of keeping this problem at bay. Plus, every time you have a regular dental checkup, your gums are examined for early signs of trouble. Of course, if you notice the symptoms of gum disease, you should come in for a check-up as soon as you can.
There are a number of effective treatments for gum disease. One of the most conservative, routine ways are those regular dental cleanings we referred to earlier, usually called scaling and root planning. Using hand-held and ultrasonic instruments, the buildup of plaque (tartar) is carefully removed, sometimes under local anesthesia. A follow-up evaluation may show that this treatment, carried out on a regular schedule, is all that's needed. Or, it may be time for a more comprehensive therapy.
If you have concerns about gum disease, please contact us or schedule an appointment for a consultation. You can learn more in the Dear Doctor magazine articles "Understanding Gum (Periodontal) Disease" and "Warning Signs of Periodontal (Gum) Disease."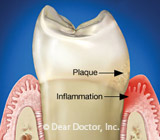 Do you frequently experience bleeding gums during your daily brushing routine? You might assume that you are brushing too hard and that this bleeding is normal. However, you should know that any bleeding of gum tissue is abnormal and should be considered a potential sign of gum disease.
Gum tissues usually bleed because of dental plaque buildup from poor oral hygiene practices. When the plaque is left around the gum line for a long period of time, 24 hours or more, the gum tissues respond by becoming inflamed — this can quickly become a chronic inflammation.
Here are some other warning signs of gum disease:
Bad Breath. Bad breath is one of the most common signs of gum disease. This is especially true for those who do not floss, because plaque collects in the protected areas between the teeth making them especially prone to gum inflammation. This plaque often produces a pungent smell that causes bad breath.
Red or Sensitive Gums. If you look closely in the mirror, you might see redness of the gums. It may also seem as if your gums are swollen, and in more advanced cases, this can lead to receding gums. Finally, you might notice gum sensitivity when you brush or a sensitivity to hot and cold.
Tooth Loss. If this disease goes untreated, over time, bone loss will cause loose teeth, movement or migration of the teeth into a new and unstable position, and ultimately tooth loss. The rate of progression will depend upon the type of gum disease that you have.
Painful Gums. Once you start to feel acute pain and extremely sore gums, this may mean you have developed a periodontal abscess. When this happens, the bacteria are walled off inside a gum "pocket," and since your body's defenses are overwhelmed, there is a battle between the bacteria in that pocket and your body's defense mechanisms. The result is a collection of pus and extra bone loss. Your gums will be sore, swollen, red and may even discharge pus.
As you can see, the further the disease progresses, the greater the amount of pain and damage that will occur. Therefore, upon the first sign of gum disease, such as bleeding gums, you should schedule an appointment with us immediately.
If you would like more information about gum disease, please contact us. You can also learn more by reading the Dear Doctor magazine article "Warning Signs of Gum Disease."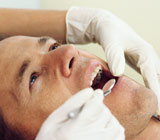 Research has shown that periodontal (gum) disease can affect the health of your whole body. Evidence suggests a relationship between severe gum disease and cardiovascular disease ("cardio" – heart; "vascular" – blood vessel), conditions that lead to heart attacks and strokes. There is also a relationship between gum disease and pregnancy; mothers with severe gum disease have a higher incidence of pre-term delivery and low birth-weight babies. To understand gum disease, you may find the following facts helpful. How many are you aware of?
Periodontal disease — Any disease that affects the areas around the teeth. The word comes from the Latin "peri" meaning around and Greek "odont" meaning tooth. Periodontal disease, or gum disease as it is commonly called, is really a group of diseases with the same outcome: destruction of the periodontal tissues, loss of supporting bone and ultimately the loss of your teeth.
Dental plaque (Biofilms) — A bacterial film that forms on teeth at the gum line, and the reason we brush and floss. Its daily removal is necessary to keep your teeth and gums healthy. A biofilm is a biological film comprised of colonies of living organisms that are generally specific to a particular eco-system. Plaque is one type of biofilm.
Gingivitis ("gingiva" – gum; "itis" – inflammation) — A response of the gum tissues to plaque biofilm that is left undisturbed (due to ineffective, or inadequate oral hygiene). It is the first stage of periodontal disease.
Pocket formation — Just like a pocket on your clothing, pocket formation is the result of separation of the gum tissues from their normally healthy tight attachment to a tooth. Pocketing allows the introduction of bacteria, which perpetuate gum disease.
Abscess — A collection of pus that forms within diseased periodontal tissues. It is experienced as pain, swelling, and discharge of pus from the gum tissues and is an advanced sign of periodontal disease.
Important Tip — Bleeding Gums when brushing teeth or flossing is not normal. It is a warning sign of early gum disease that you should bring to the attention of our office.
Contact us today to schedule an appointment to discuss your questions about periodontal disease. You can also learn more by reading the Dear Doctor magazine article "Understanding Gum (Periodontal) Disease."