Posts for tag: veneers
By My Dentist
June 08, 2015
Find out what makes someone an ideal candidate for this cosmetic treatment in San Bernardino.
We would all love to have smiles that are as beautiful as a Hollywood movie star's; however, it's pretty rare to have this perfect smile naturally.
That's where your San Bernardino cosmetic dentist Dr. Sanjay Patel comes in. While you may not have been blessed with the ideal smile at birth you can still get the smile you want without needing to have a budget like you favorite actor or actress. Find out more about dental veneers and what they can do to get you that award-winning smile.
What are dental veneers?
Veneers are thin shells usually made from porcelain that are adhered to the front of your teeth by your San Bernardino cosmetic dentist Dr. Patel to hide dental flaws and problem areas. Veneers are designed to look just like the front portion of your tooth and they help cover imperfections found in the aesthetic zone.
Are dental veneers a good choice for my smile?
Porcelain veneers can offer wonderful results for a healthier looking smile, but before you can get dental veneers your San Bernardino cosmetic dentist Dr. Patel will need to evaluate your smile to make sure this is the right procedure for you. Here are some questions you need to ask yourself to make sure veneers are the best option.
Do you have severe stains that teeth whitening can't fix?
Are your teeth healthy and free of decay?
Are you dealing with chipped or broken teeth?
Are you looking to correct some minor crookedness, gaps between teeth or overlapping?
Do you have oddly shaped teeth?
Do you want to have veneers for life?
If you have said, "yes" to all of these questions then dental veneers could be an ideal solution for your smile. It's important to note that because some healthy enamel must be removed to accommodate your veneers, this procedure is irreversible. Be sure you are ready for veneers for the rest of your life before you agree to this procedure. Dental veneers are an investment, but a long-lasting, beautiful smile is well worth it.
Have we piqued your interest when it comes to dental veneers? Want to truly find out if veneers are right for you? Then schedule a consultation with your San Bernardino cosmetic dentist Dr. Patel today. Let My Dentist help you get that red carpet smile!
By My Dentist
August 25, 2014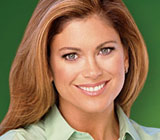 It is not often that you find a celebrity who is willing to speak candidly about any cosmetic or restorative dentistry that he or she has had. Instead, most prefer that their fans just assume that their dazzling "Hollywood" smile is something that just happened naturally. However, that is not the case with Kathy Ireland, the former Sports Illustrated cover girl, current business mogul and founder of kathy ireland Worldwide, a billion dollar marketing and design firm. In a Dear Doctor magazine cover story she talks openly about her dental experiences, injuries and treatment so that people worldwide can understand what may be possible for them.
For Kathy, it happened several years ago when she was playing with her husband and children in their driveway. Kathy decided that she would stand in her children's wagon and surf across their driveway. Instead, she ended up "face-planting," as she describes it, in a freak accident that left her with a broken nose, split forehead and several broken teeth. She recalls that it sounded like a watermelon had smashed. Luckily, her husband, an emergency room physician, was on hand to care for her. Kathy is just as thankful to her cosmetic and restorative dentist who restored her trademark smile with some veneers and a dental implant. Today, the only reminder she has from this accident is a small scar on her nose that she covers with a little makeup.
You would think that this accident would be enough trauma for one person; however, Kathy describes an earlier accident where she knocked out a tooth and then later knocked it loose again. Kathy also wanted to take the time to let readers know that her dental implant experiences were "pretty easy." She did recall, "hearing all the sounds while all of it was going on" and then added, "but I have to tell you, that after being a mom and having kids, going to the dentist...is like going to the spa!" She said that she has even fallen asleep in the dental chair.
To learn more about Kathy Ireland, continue reading the Dear Doctor magazine article "Kathy Ireland." Or if you think cosmetic or restorative dentistry is right for you, contact us today to schedule an appointment to discuss your specific goals.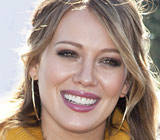 Many Hollywood luminaries use porcelain veneers to enhance their smiles. Take actress and singer Hilary Duff, who, according to People magazine, had veneers placed on her two front teeth after chipping them on a microphone during what must have been an extremely energetic performance.
Well, you don't have to be a Hollywood star to benefit from a smile enhanced with porcelain veneers. If you have small chips, cracks, slight tooth rotations or minor spacing problems, veneers may be able to give you back your smile — or an even better one.
The word "veneer" refers to a super-thin covering, and in dentistry a veneer is a thin layer of porcelain that replaces your natural tooth enamel. Porcelain is the material of choice because of its strength, translucency, and ability to resist erosion.
In the right hands, dental porcelain can mimic tooth enamel perfectly. To make veneers, a skilled dental technician will mix porcelain powder (in a shade specified by the dentist) with water and then fire the material in an oven like pottery; the porcelain is built up in layers for a truly lifelike effect.
Before a veneer is bonded to a tooth, often we need to remove a tiny bit of the tooth's existing enamel so that the final effect will not be too bulky. The procedure is virtually painless and can be completed in as little as two visits. Because enamel is removed, this particular cosmetic treatment is not reversible. Sometimes veneers can be added directly onto the tooth surface without any tooth reduction and therefore are reversible if used in this way.
Once you have veneers, please keep in mind that while extremely strong, porcelain veneers are not indestructible; you won't want to do things like crunch ice or break nuts open with your teeth. And if you are a teeth-grinder, you should wear a nightguard to protect your beautiful new smile. With proper care, your veneers will last 20 years or more.
If you would like more information about porcelain veneers, please contact us or schedule an appointment for a consultation. You can also learn more by reading the Dear Doctor magazine article "Smile Design Enhanced With Porcelain Veneers." Dear Doctor also has more on "Cosmetic Dentistry: A Time For Change."